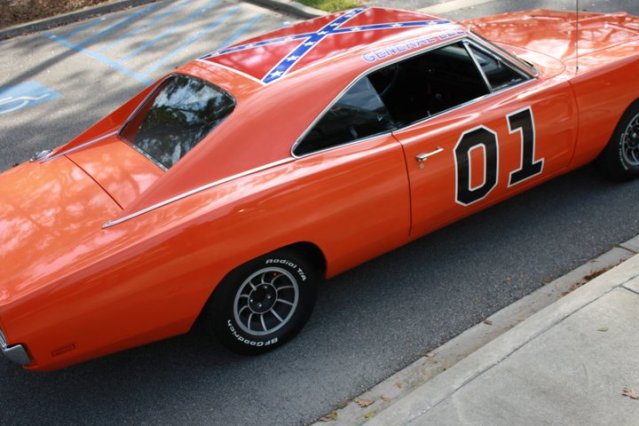 Important information you need to know before you buy from ANY graphics vendor. If you like their "Cheap" price... be careful.. they may be selling you the cheaper economy film that has a very limited life expectancy.
These graphics here are the one and only set you would need to complete your General Lee that will exceed the life of standard vinyl and calendered vinyls two to three lifetimes.
Please be wary of other graphic sets that are being sold that are curling. Its easy to spot graphics like this when you have worked for a sign shop for a considerable amount of time.
These are Calendar Graphics with a Calendar UV Clearcoat overtop. 8 Yr life from these.. hmmm no. Ive seem them last anywhere from 2 to 4 yrs tops.
I use all 3M high performance "Cast" 3M CV3/Control Tac Comply graphics with 3M High Gloss Cast overlaminate. They are made with a 3M Certified Solvent Wide Graphic printer that assures that all the graphics, especially the flag are all "1" piece graphics. The numbers are prespaced.. everything ready to go out of the box. You also get Highly detailed placement photos and measurements of the graphics where they go. An installation kit is provided also with a squeegee and grease marking pencil which doesn't harm the paint or body.
Whats the difference between cast and calender?
Cast Films
Cast films, also known in the industry as premium, high-performance or 2 mil are considered to be a premium product with excellent durability and conformability characteristics
Because the vinyl is cast on the casting sheet in a relaxed state, this material offers very good dimensional stability. This process also allows the film to be very thin (most cast films are 2 mil), which helps with the conformability of the product. Material manufacturers recommend the use of cast films on substrates such as fleets, vehicles, recreational vehicles or boats where the customer wants a "paint-like" finish that will last a long time, usually five to eight years depending on how the film is processed.
Advantages of cast films:
Shrinkage is the lowest of all vinyl films because the "casting sheet," not the film itself, is pulled through the machine. Since the film has not had any stress applied during the manufacturing process it does not try to resume or shrink back to its original form.
Durability of cast films is generally higher than that of other vinyl films due to the manufacturing method and the raw materials used.
Cast films can be made very thin which produces a conformable product that allows application over substrates with rivets, corrugations, and complex curves. Also, once applied, this low caliper makes the graphic less vulnerable to abrasive forces.
Cast films also maintain their color and other properties better than other vinyl films. This results in better performance of pigments and UV absorbers.
The manufacturing process of cast films makes it easy to run small productions of special colors to match. It is relatively easy to change color during production making color matching in small batches possible.
Cast is also OEM Grade vinyl
-------------------------------------------------------------------------------------------------------------------------------------------------
Calendered Films
Like cast, calendered film also gets its name from the manufacturing process. These films may also be referred to as intermediate, 4 mil, short-term or economy. Calendered vinyl is formulated with similar raw materials as cast, except that no solvents are used.
The quality of calendered films can range from economy to intermediate with durability of one to five years. These films generally are not recommended for vehicle applications because they are thicker, less conformable and less durable than cast films.
---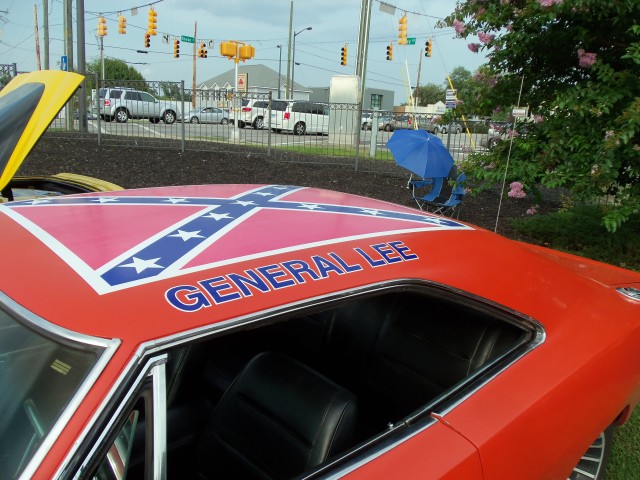 Same Flag 1 Year later below with even more fading
Again, please be careful who you choose from. The 01s and General Lee Lettering may still look good, but look at the flag above. The Flag has faded this severely in less than 3 years!! Even comparing the blue stripes to the blue "GL" lettering you can notice a difference.
All my graphics have a UV laminate to help prevent this. The Flag is the most important part to protect, since its the largest decal and its on a flat surface getting the most impact from the sun. My graphics.. even set outside, you wouldn't begin to see signs of fading until 5 yrs. Garage kept you can get well over 8 yrs of life.
-----------------------------------------------------------------------------------------------------------------------------
ALL GRAPHICS
are...
Fully Customizable. You can mix match eras. Customize the Cross flags for Small or Large. With or Without White border. White border customize to match the battle flag roof flag.
A few blues to chose from.. vivid (light medium blue), Sapphire (light Navy blue or Reflux Flag Blue), and Navy.